How to get to Cayo Coco - BY BUS
Unfortunately, there's no type of public transportation (bus or train) that goes all the way to Cayo Coco. The two Cuban bus operators, Viazul and Astro, have no route that includes Cayo Coco (and Cayo Guillermo). The only buses that cross the causeway to go in and out the island of Cayo Coco are the ones that bring employees to the hotels and those carrying tourists on organized tours.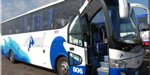 The lack of public transportation makes it more difficult and expensive for independent travelers who don't want to rent a car, to include Cayo Coco in their itinerary because using taxis ($$$) is inevitable. The nearest city from Cayo Coco that you can reach with public buses is Ciego de Avila. From almost anywhere you are in Cuba you'll easily find a way to get to Ciego de Avila with the VIAZUL buses (www.viazul.com). And then to go to Cayo Coco from Ciego de Avila, you need to hire a taxi.
Ciego de Avila is about 100 km (62 mi) from Cayo Coco (driving time about 90 minutes). A one-way taxi ride between Ciego de Avila and the Cayo Coco hotels costs around 80 CUC, and about 15-20 CUC more for Cayo Guillermo hotels. Taxi fares are usually negotiable, and also make sure the taxi you are taking is licensed to enter the island (not all are)! You wouldn't want to be stuck at the checkpoint leading onto the causeway that connects Cayo Coco to the main island of Cuba.
Another option would be the train. We never tried them and don't know how reliable they are, but we know there is a train station in Moron, which is a small town closer to Cayo Coco (about 45 minutes' drive). A taxi ride from Moron to Cayo Coco is about 45 CUC. The Cuban train operator "Ferrocarriles de Cuba" has no official website.
Lily & Normand
© cayocococuba.net
© destilino.com