¡Bienvenidos!
Welcome to our travel guide about Cayo Coco, online since 2004. You'll find here lots of information about Cayo Coco but also about its neighboring islands: Cayo Guillermo, Cayo Paredon Grande and Cayo Cruz. These cayos are located off the northern coast of the main island of Cuba (Atlantic side), and are part of an archipelago called Jardines del Rey (King's Gardens), which itself belong to a larger archipelago called "Sabana-Camaguey". The Spaniards named the archipelago Jardines del Rey in 1513 in honor of King Ferdinand the Catholic.
Cayo Coco is named after the white ibis which is locally called coco bird. This sun destination is mostly renowned for its pristine white sand beaches stretching for miles, its calm and shallow crystal-clear waters, and for its quiet away-from-it-all atmosphere and natural surroundings. Cayo Coco and the other nearby cayos are uninhabited, only tourism infrastructures are found on these islands: Hotels, commercial centers, marinas, etc. Cayo Coco has its own international airport (CCC) called Aeropuerto Jardines del Rey.
Click the following links to view an aerial image showing the location of:
The hotels in Cayo Coco
The hotels in Cayo Guillermo
The other tourist facilities and services in Cayo Coco
The other tourist facilities and services in Cayo Guillermo
Cayo Coco/Guillermo is connected to the main island of Cuba by a 27-km (17 mi) causeway built in 1988. It took 16 months to build it and required more than 3 million cubic meters of rocks and stones. From an administrative point of view, these cayos are part of the municipality of Moron which is located about 45 minutes' drive from Cayo Coco, in the province of Ciego de Avila. About 85% of Cayo Coco is covered with vegetation, with more than 200 species of birds inclusing a large colony of flamingos. Visit our Location & Maps section for further information.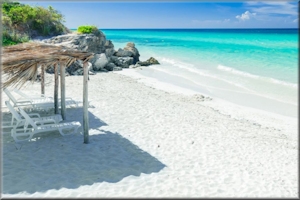 The most popular activities in the Jardines del Rey archipelago include: Water sports, fishing, kitesurfing, diving, swimming with dolphins, and of course relaxing on the beach! Visit our sections: Attractions & Activities, Tours & Excursions, and Beaches, to learn more about what to do and see in the area and beyond.
Another pleasant activity in Cayo Coco is having lunch or dinner in one of its Ranchons (Beach Bar & Grill) located throughout the island. They are friendly and safe places, outside the all-inclusive hotels, where you can enjoy a delicious lobster meal (or many other options), and at a very afordable price too!
The Jardines del Rey archipelago is currently the most active area in Cuba for tourism development. Once completed, the archipelago should reach a capacity of about 32,000 rooms distributed in the following islands (from west to east): Cayo Las Brujas, Cayo Ensenachos, Cayo Santa Maria, Cayo Guillermo, Cayo Coco, Cayo Paredon Grande and Cayo Cruz. Visit our Latest News section to stay up-to-date on hotel openings and changes in names and management.
Our cayocococuba.net website has been online since 2004. It contains thousands of pictures and hundreds of webpages. It's updated regularly, and we humbly believe it's the most complete and detailed source of information about this Cuban destination. Having no business relationship (or otherwise) with any hotel chain or the Cuban government, our websites are created simply and solely for the purpose of keeping you informed about this beautiful Caribbean island that we had the chance to visit dozens of times. Enjoy!
---

Note that since the spring 2014, Cuban Immigration systematically stamps all passports when entering and leaving the country. And also: Since May 1, 2015, the Cuban Departure Tax is no longer paid at destination. It should now be included in the price of your trip when buying a flight-only or vacation package to Cuba.

In October 2013, the Cuban government announced its intention to eliminate the dual currency system, unique in the world. The Cuban peso (CUP) would become the official currency and the convertible peso (CUC) would be phased out. No official timetable has been announced, although Raul Castro is firmly committed to implementing this economic project as soon as possible. More information to come.
Lily & Normand
© cayocococuba.net
© destilino.com